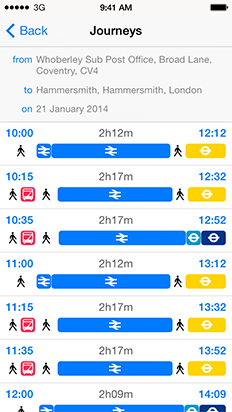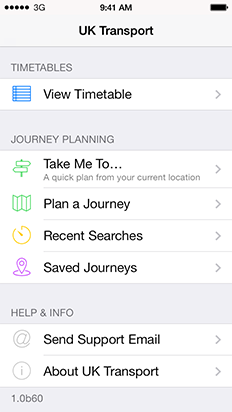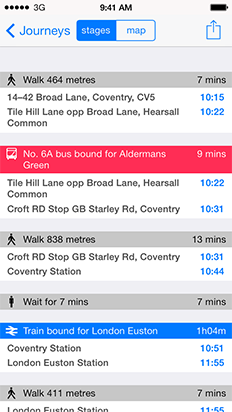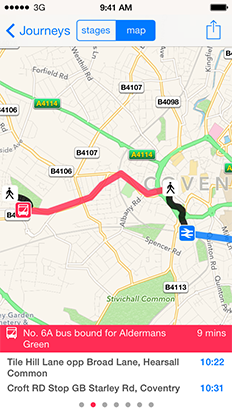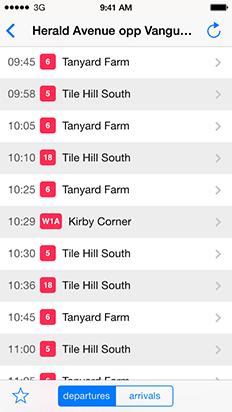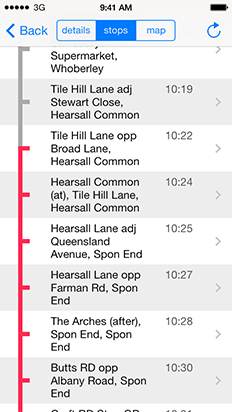 Never get lost again
A journey planner in your pocket.
There's no need to panic when visiting somewhere you've never been before. UK Transport will accompany you, ready to get you out of a sticky spot. Using the public transport system of a strange city could be a daunting prospect, but UK Transport will tell you which bus stop to wait at, which bus to get on, and even provides a handy map to help you know when to get off.
Not just buses, UK Transport supports coaches, trains, trams, the Tube, ferries, and more. You can see a comparison of different options for your journey, to help you pick the best one. Then, tell UK Transport to save that journey, so that you can come back and look at it while en route.
FAQ
What platforms does UK Transport support?
UK Transport is developed for iPhone, and requires iOS 7 or above. It will also run on iPad in scaled-up mode.
Does UK Transport provide realtime data?
Not at this time. All the data used by UK Transport is taken from the timetables.
What regions does UK Transport support?
UK Transport supports Scotland, England and Wales. It does not support Northern Ireland. Our support is based on data provided by Traveline, so we cannot support regions they do not cover.
Who provides the journey planner?
The journey planning service is provided by SilverRail.
What features are planned?
We don't comment on upcoming features or timescales. However, if you have any particular requests, please do and let us know.
Support
We welcome all feedback, comments and suggestions.
If you're having trouble using UK Transport, take a look at the online manual.
Follow us on Twitter at @uktransportapp.